Good news to Yokomo Drift Package SD, BD and even Drift Master!
You can now purchase D-Like Re-R as your new drift weapon!
Spare parts is YOKOMO parts, easy to get!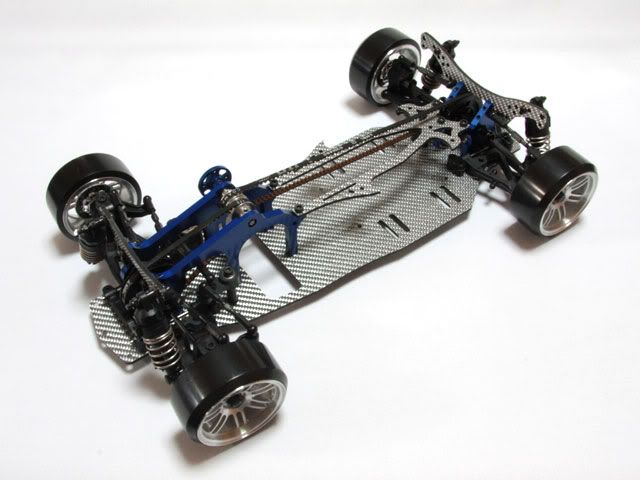 Call me for to order (Full payment needed, item will be shipped +/- a week time upon confirmations) SMS ME @ 0163310258 to order. (3 stock left)
More info: http://csjunkies.com/viewtopic.php?f=6&t=734
D-LIKE DL080
Weight Shift MEISTER Re-R (Aluminum Blue / Silver Carbon spec)
If you are looking for real drift action, don't look further!!
By shifting body weight, control the drifting!
Using super rigid chassis > Easy to weight shift and drift!
Front Bulk integrated! > Easy to weight shift and drift!
Include following:
Front Damper Stay x 1
Rear Damper Stay x 1
Upper Deck x 1
Main Chassis x 1
Front Bulk Head L&R x 1
Rear Bulk Head L&R x 1
Belt Tensioner Post x 1
Main Gear Adaptor x 1
Drive Belt Rear x 1
Drive Belt Front x1
Diff Pulley 40T x 2
Center Shaft x1
Center Pulley x 2
Pulley Colour x 2
T0.3 Sim x3
Uni-Crank Post x 2
Uni-Crank Post Collar x1
Uni-Crank Plastic Parts x1
Saver Mount x 1
Saver Nut x 1
Saver Spring x 1
840 Metal x 2
38mm Turnbuckle x1
58mm Turnbuckle x1
4.3 Pole End x 2
4.3 Pole x 1
4.3 Pole Long x1
840 Flange Bearing x2
840 bearing x2
Belt Tensioner Flange Pipe x 1
M2 Screws x 6
M3x8 Cap Screw x 17
M3 x 10 Cap Screw x 2
M3 x 15 Cap Screw x 1
M3 x 1o Screw x 14
M3 Lock Nut x 1
M3 * 3 Set Screw x 3