WoW! After looking back on 28th April 2010 at my post http://www.d1-10rc.com/forums/threads/5267-D-Like-Re-R-Belt-Conversion-for-YOKOMO , I FINALLY owned a brand new Re-R!
A blue kit? I started with HPI E10 back in 2009, later HPI Cyclone, Schumacher MI3.5, A Custom chassis,HPI TC-D all almost purple colour. Trying to get ARD CER D-11TX Sunset Orange (4th attempts since 2010) recently but lacked of support from ARD themselves. For some reason i dont like plustoyo. CER D11 TX is good enough.
When i think about ARD, it is almost complete ready to drift. Hmmm i always want to be different. I won a Ueno's Yokomo Drift Package Shaft Drive during recent YIDM 2011, handed over by the D1GP him self! For me that is a signal from Allah to choose D-LIKE RE-R! I decided to buy Re-R silver carbon edition!
Why i like ARD? They are the pioneer of the midship, the origins! Why i like D-Like? They drive ARD before having their own Re-R. They are the benchmark of RC Dori Counter Steering since the beginning. Today everyone can hold an angle, but D-Like always come top with new things, good videos and they owned real drift cars! That is pure dorifuto spirit. :)
Let me share with those who wanted to know. The experts, owners out there you know better. As I know this is the only Re-R in Malaysia :)
Re-R is conversion kit for Yokomo Drift Package SD (shaft drive), Drift Master (Shaft drive) or BDM (belt drive). Conversion kit means you must have either SD, DM or BD and use back your lower arms, knuckles, Front and rear bumpers, UJ, C hubs, turn buckles,toe blocks, Spool & One way. This is the simplest explanation i can give.
Below is the complete drift package type B i won. :)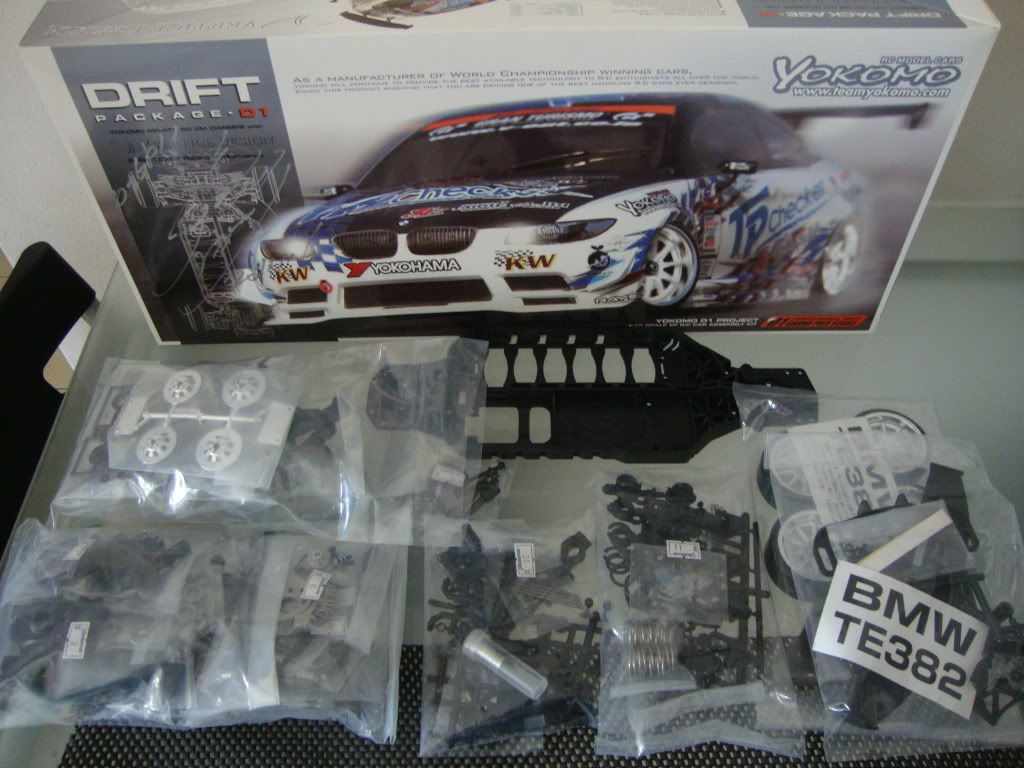 We only need these parts for Re-R!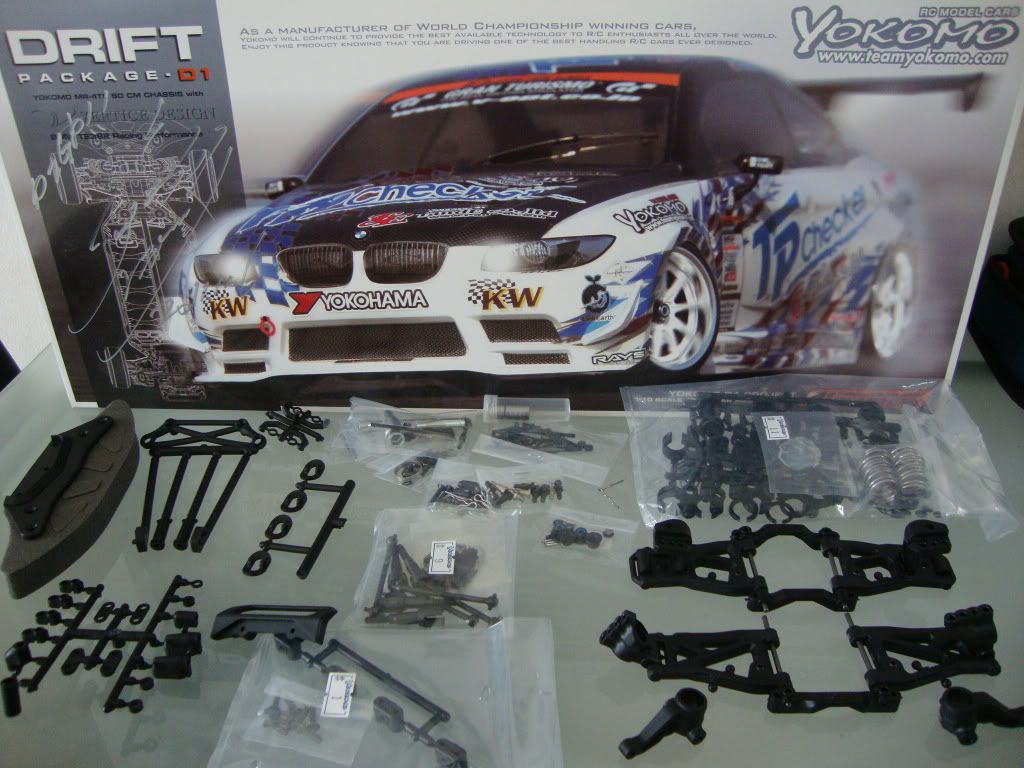 Here are what you get from Re-R conversion kit. Achom take note on the solid bulkhead bro! the quality is awesome :)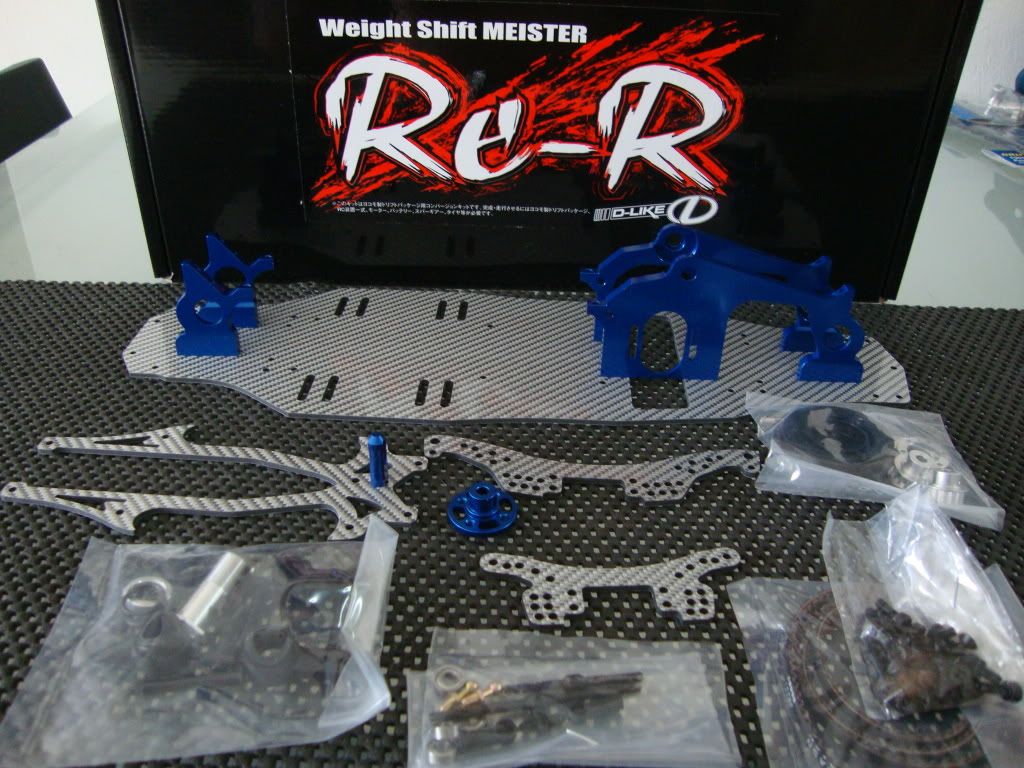 These are among the upgrades I bought for it. All is important but not compulsory. Some still being ordered and some will be ordered.
I always wanted a good car for any issues during competition will be driver errors and not the car! :)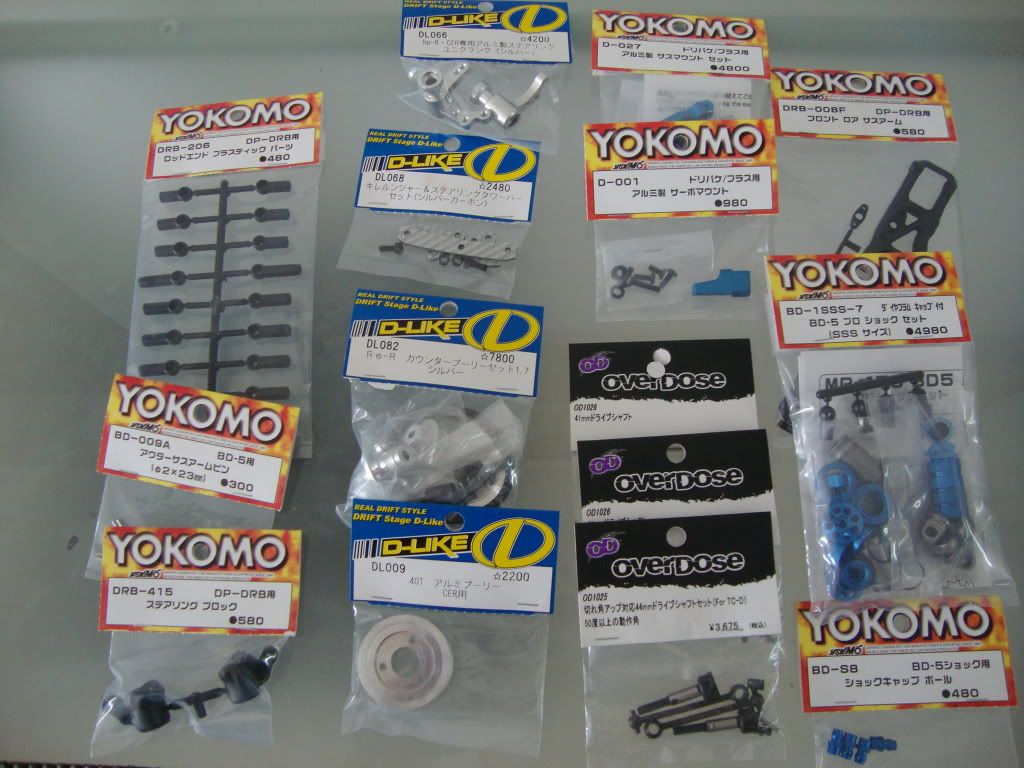 These are the important steering upgrades. We can choose either the alloy steering crank or use the original Re-R steering block together with the carbon extensions. We cannot use both. :)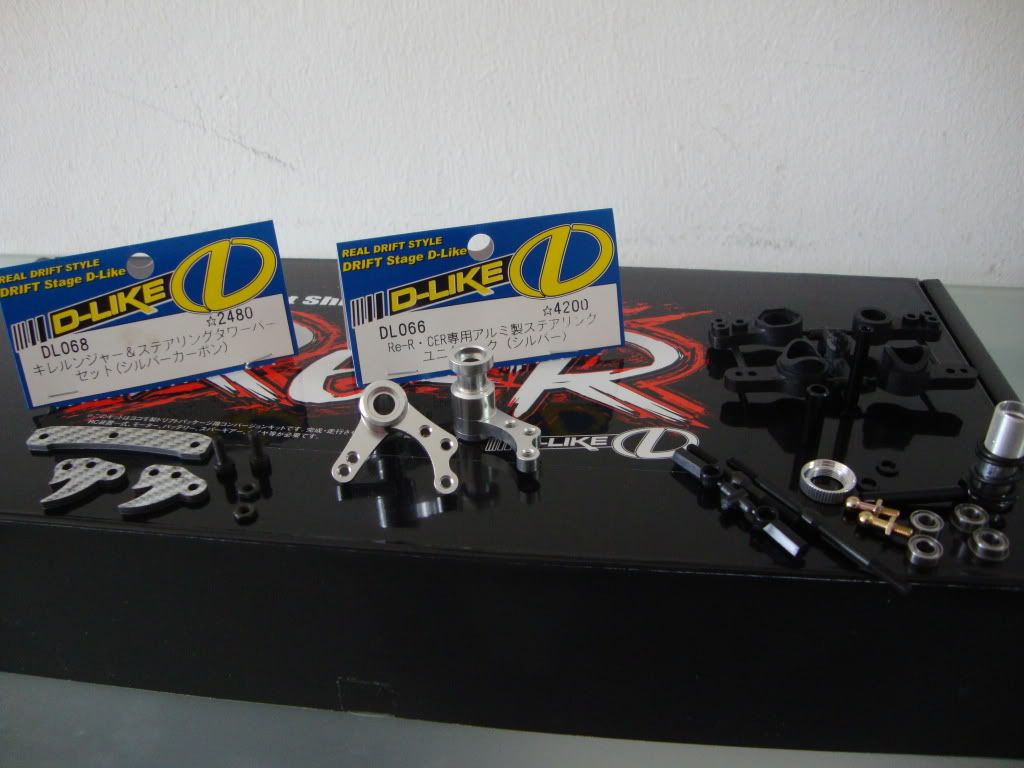 Here are the assembly of it, i find that by putting 0.3mm M4 shims on top of the black spacer made the steering super solid with no free play.
I always instal the arms first and then the steering setup. I tried to find the best Ackerman as this is new to me. The process after this will be shared later. it involving machining the standard SD C-hub and using DRB knuckles. Later plan is to use both items from DRB but not the standard one. hehehe It's pricy and i dont have it yet :P later...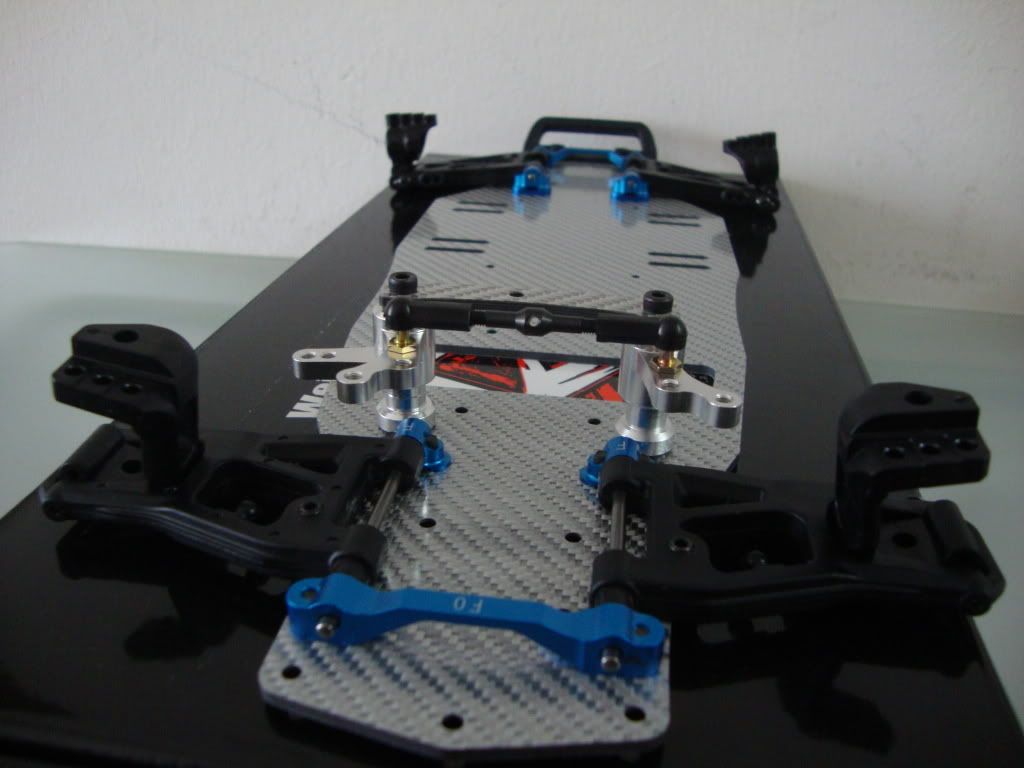 As of today, I have installed the Front pulley as well. The Overdose UJ will be used with the later knuckles. :)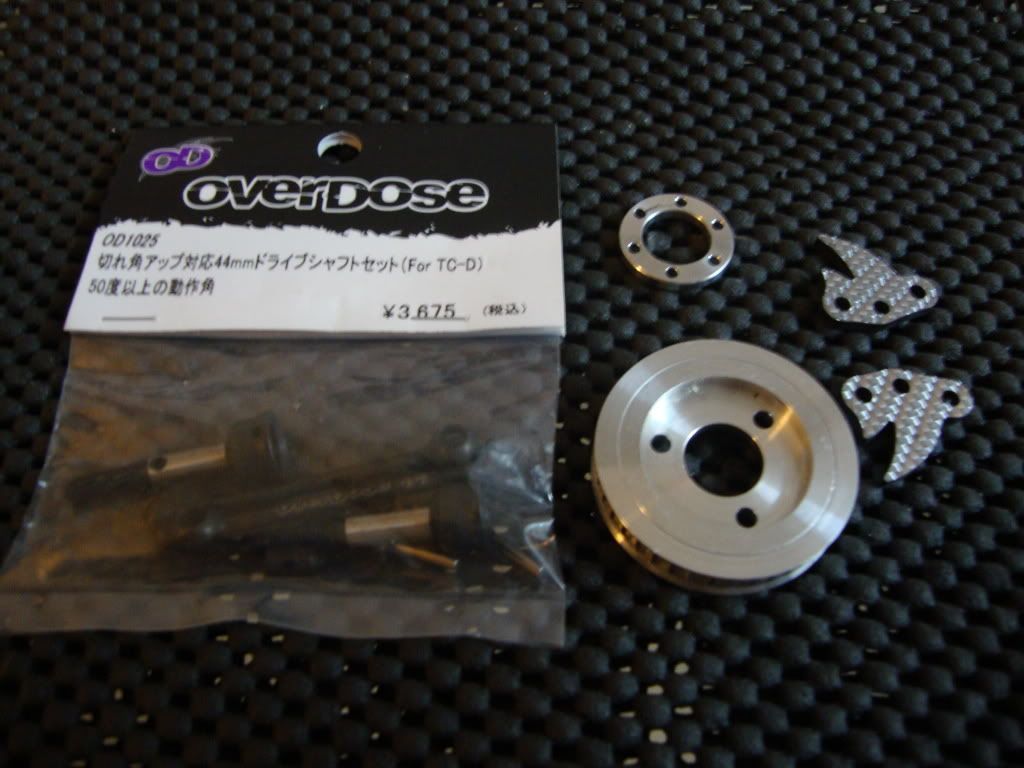 Assembled, Sideview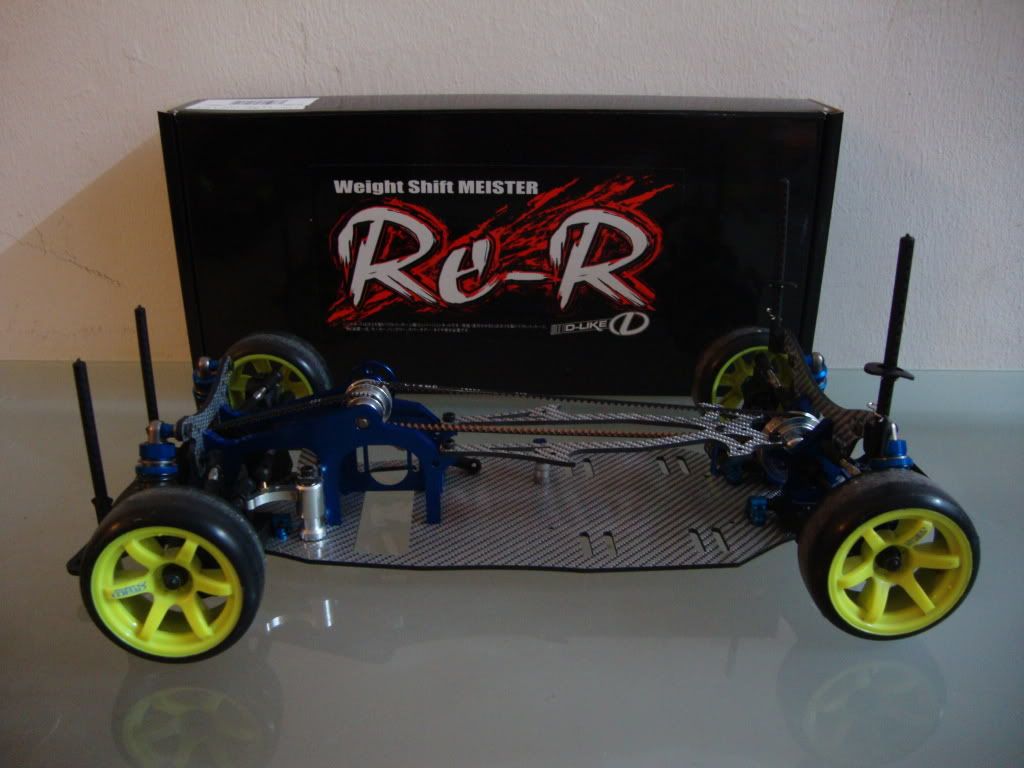 Front setup
The main reason i like Re-R, the ultra responsive bulkheads! My ratio setup for this are 40-15 & 20 - 32 = 1.7
The rear section, will change the rear knuckle to BD5 or DRB due to the SD bearing issue. Notice i'm using standard SD dogbones? it is NOT good as it will make the rear rattles.
Hell Yeah! i had few part ordered, stay tuned. Secretly i like the rattling bones sounds. hahaha.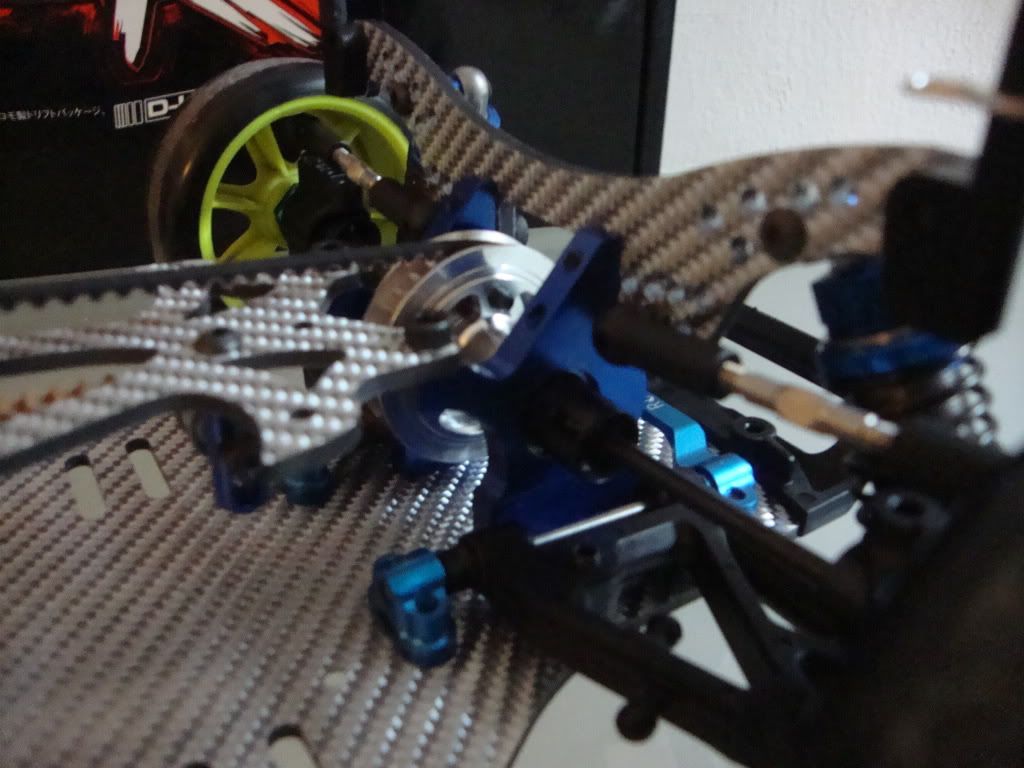 I like overdose since the beginning due to the tuning ability but look at the rear shock positions options! I like D-Like!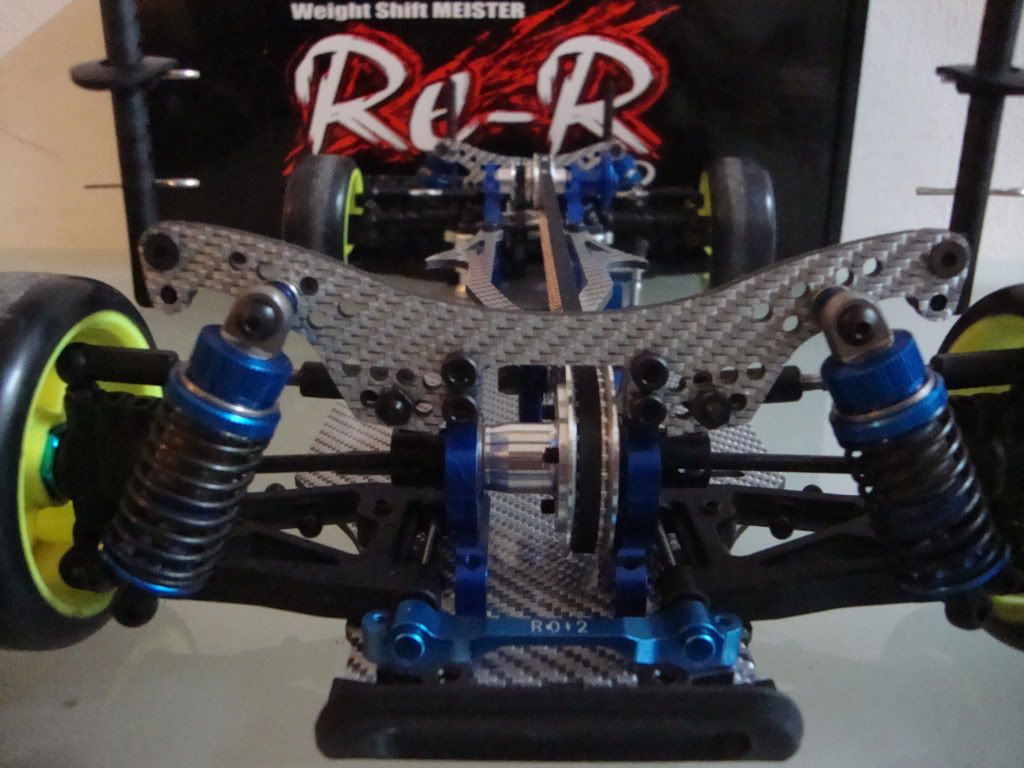 My upgrades were:
Yokomo SD toe blocks set, BD5 Pro Shocks set SSS, DRB knuckles and rod ends, Titanium turnbuckles, D-Like alluminium steering crank, middle tower, 1.7 CS kit, Front Alluminium Pulley and few others. I had few parts ideas and recommendations for Re-R owners.
If you like to order ARD CER, RE-R, please wait until my shipments properly arranged & arrived. Now it is not available and I'm not selling yet as my price is normal price + shipments + 10% customs tax. Outrageous!
I had assembled everything by now and will keep you posted. One thing i can say is, this chassis is worth every RM spent.
Since i assembled it, the tweaks are almost non-existed, everything was smooth(maybe I did it the right way, measure every parts, all parts are still new and solid, etc) and with only rough setup the car handles great! i notice few advantage of this chassis, and excited to explore the potencials further.
Subcribe to my blog! to my youtube channel! View my older post as well. I am driven by your supports!