RACE REPORT: Speed City R/C Drift Challenge 2011
Date: 26-27 March
in conjunction of FXOPEN DRIFT SERIES FINAL
The track layout and rough surfaces. Need to adjust car setup and beef up the responses from the car. I tried my normal car setup with shock oil F900 R300 it was too hard, even tried using no shock oils!- for the sake of trying... and went for qualifications. As always the combo of wrong traction setup + mad driving will not score the day.
Went back early to sleep and setup the car as plan. I ended using 300 all up and improve the overal weight transfer of my TC-D. It was an instant win. I was satisfied with the the second day setup and will be happy no matter what will be the result. :)
I am doing another S13 just for the sake of daily use and wall scraping. :)
I told Haidi that the trophy colour (gold & blue) was funny. He said it was just to be different.
Not to forget to Max Power subsidized friends, Abg Zai, Mat Zek and many more.
The end results, again I only managed to get BEST 8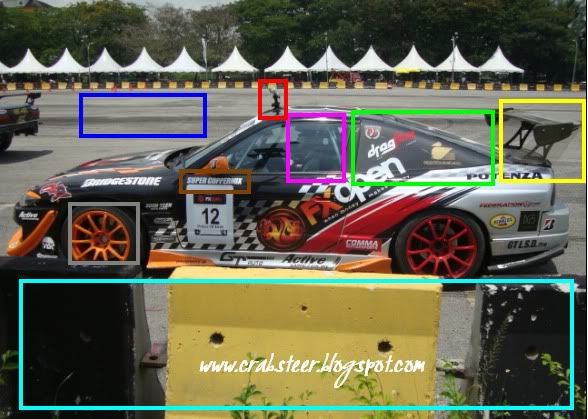 Can you spot these from Tengku Djan car?


The clever aero mods


Carbon fibre rear screen replacement


The possible best drifter on Malaysia's events


Go Pro HD cams - in my wish list :)


Super Coppermix cluches - in my wish list :)


My new favorites 1:1 drift track and layout efforts


Those Brembo!


The 700KG per meter brick barriers!
Thank you for reading... :)